Rachel Mooney's Pick of the Week | European Elegance
Welcome to Rachel Mooney's Pick of the Week!
This week we are taking a look at a stunning European style Hedgewood custom home in Westbrook.
This home is beautiful both inside and out. This week we wanted to highlight the importance of curb appeal. Everyone knows that it's important, but did you know that some "curb appeal" investments can yield up to a 400% return on your investment. Check out this excerpt from one of our recent articles on adding curb appeal to your own home:
"The first step [to adding curb appeal] is get rid of any junk in the yard. Remove old flower pots, trash, or broken tiles/pavers. Then take a look at your lawn. If it's healthy, just make sure it's trimmed. However, if it isn't then that's a problem. The 2016 NAR Remodeling Impact: Outdoor Features study found that seeding a yard (which is estimated to cost $120-$500) could yield over a 400% return on the investment when the home is sold. Those are pretty good numbers and show buyers are concerned about curb appeal.
There are several other ways to add curb appeal in addition to seeding the lawn. You can also replace an old mailbox and plant a bed for flowers around it. Plant flowering shrubbery around the house. Add outdoor lighting and make sure all pavers and walkways are clean and broken ones are replaced. Decorative planters can make a porch or deck stand out. Replacing the wood on an old deck or giving it fresh deck paint/stain will also help make a home stands out.
Try to see your home through an outsiders eyes. They haven't created memories in your home or seen what it looked like before you moved in and began projects. Even simple things like flowers can highlight a home and show it's been cared for." (from Selling Your Home in 2017: 4 Resolution for Success)
This home features gorgeous 12 inch stone exterior walls and professional landscaping. The mature trees are set off by a tidy yard. Stone steps highlight the English-style home and manicured bushes finish off the look. It all comes together to make a statement of elegance and sets the tone to expect the same of the inside of the home.
Let's take a look at this week's installment of Rachel Mooney's Pick of the Week.
---
4202 Crossland Drive
Cumming, GA 30040
Price: $560,000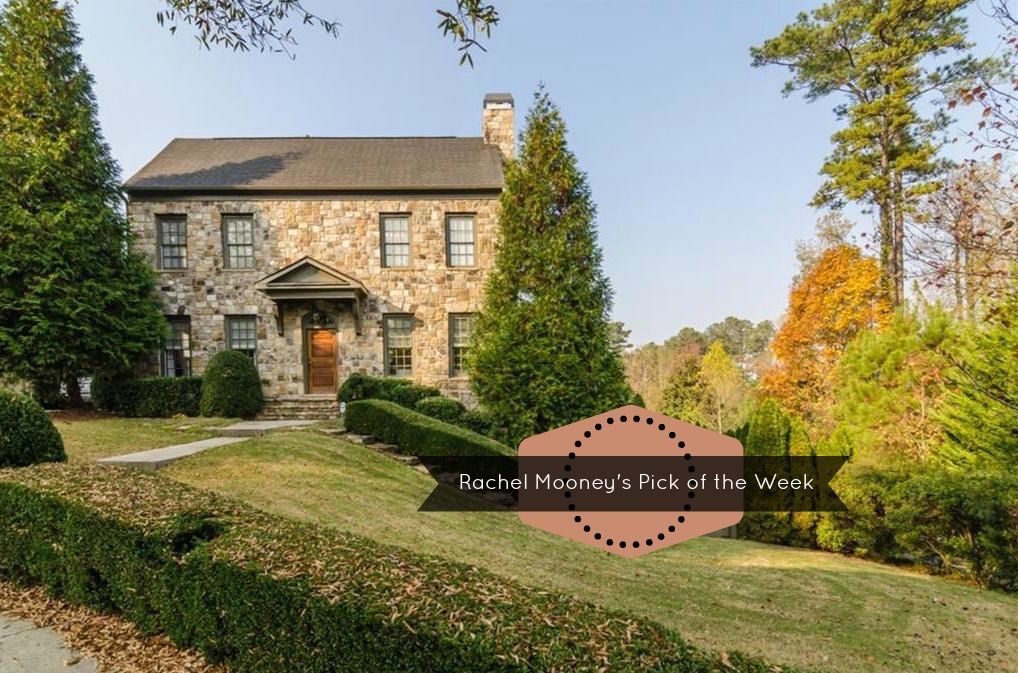 This 5 bedroom and 3.5 bath home is listed by Owner/Agent Lynn Mims at Keller Williams Realty.
A formal dining room and separate living room sit off either side of the entrance.
Bright and cozy family room with built-ins and fireplace.
The family room is open to the kitchen which contains a breakfast area and pantry.
Elegant master suite with fireplace and private covered porch with view of neighborhood pond, woods and Sawnee Mountain.
This home has ample space with extra bedrooms, bathrooms and a great room/media room.
Recently finished terrace level with 2 bedrooms, travertine bath and spacious open living area with kitchen.
Porches on every level and english garden style patio with water feature plus a carriage house type garage with lots of storage space above.
To see the full listing click HERE.
---
To learn more about this home or to view other homes call or text Molly at 404-545-9767 or email at

[email protected]
Need to sell your home first? Click HERE for a complimentary home value estimate.
Search more homes HERE.
Want to learn more about our team and what we can do for you? Check us out HERE.
We hope you enjoyed learning more about this awesome home and we hope to see you back for Rachel Mooney's next Pick of the Week!