5 Traditions to Start THIS Thanksgiving
Can you believe Thanksgiving is here? We are dreaming of turkey and pies and stretchy pants!
But Thanksgiving is about more than just piling up plates of food. It's about coming together with family and friends and celebrating the blessings of the past year.
We've put together a list of 5 traditions you can start this Thanksgiving to encourage meaningful conversation and simply have fun with the ones you love.
Happy Thanksgiving from The Mooney Group. We have hope you have a delightful holiday with family and friends!
---
1. Create a "Thankful" memory book.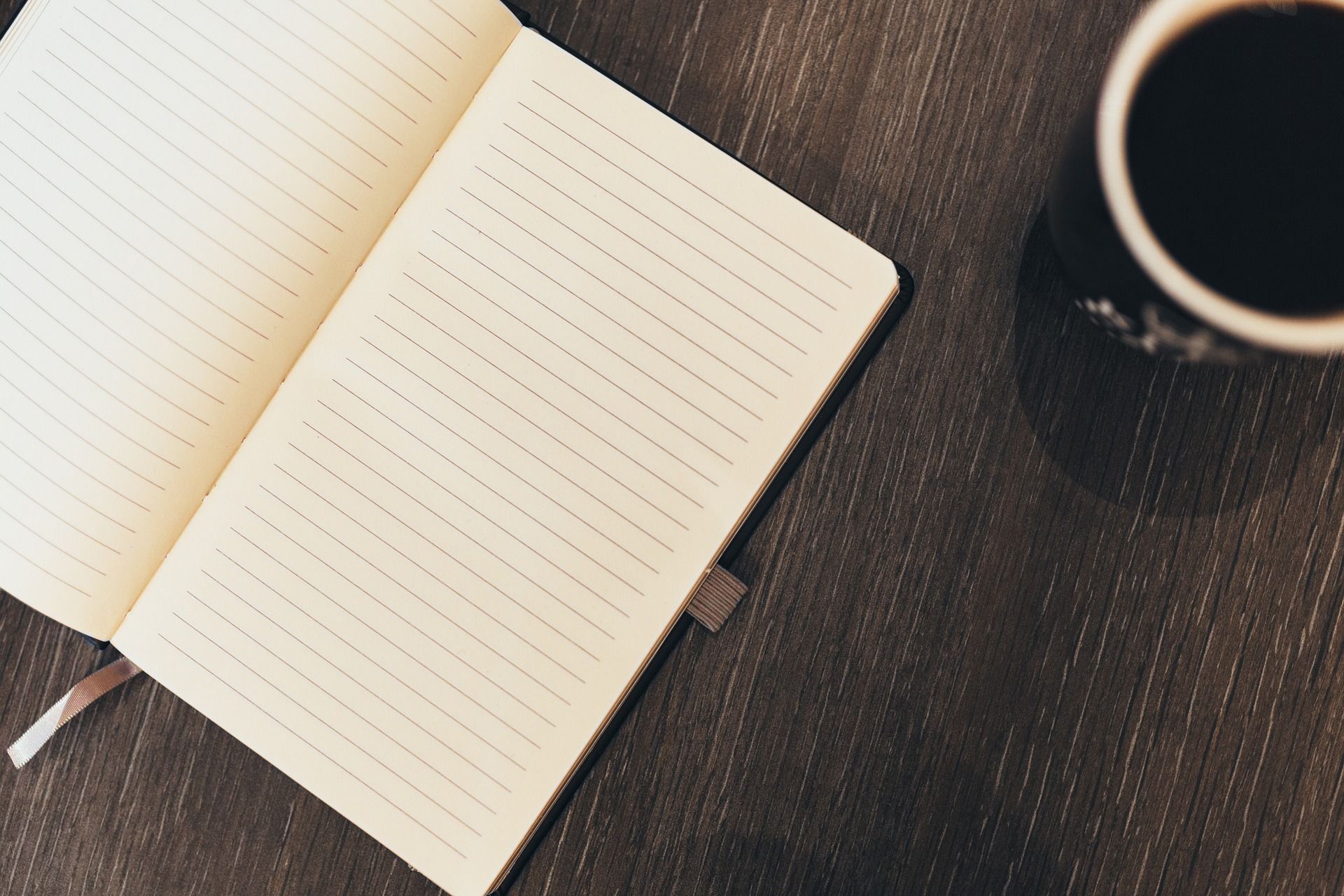 Before you dig into the food take a few moments to reflect on something you are thankful for in the past year. The host can create a "Blessing Book" scrapbook, or simply have a notebook to record everyone's blessings.
Save the scrapbook or notebook and bring it out next Thanksgiving. Everyone can remember their blessings from the previous year and then add a new reason they are thankful for the current year.
An alternative is to buy a shadow box and have everyone write down their blessings on a strip of paper (or a paper leaf if you want to be creative!) and drop it in the shadow box. At the end of the day you can read everyone's blessings, or save it for the next year.
2. Thanksgiving Dinner Conversation Starters.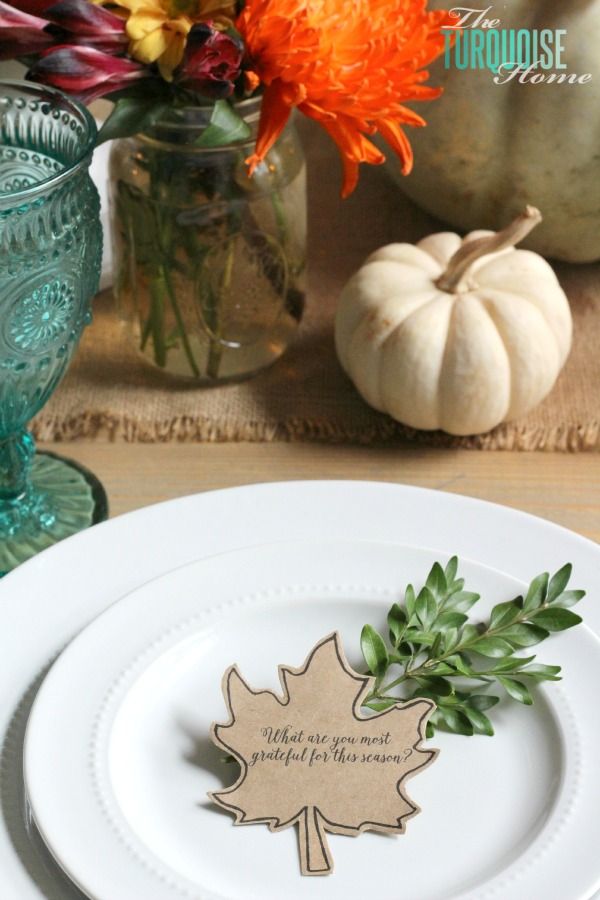 If you need help getting conversation flowing, or creating meaningful conversations, these are perfect! "What's your favorite Thanksgiving memory?" or "What's your most embarrassing holiday memory?" can get your guest talking. You can make them meaningful or humorous.
They can sit at each place setting and should go well with any Thanksgiving decor.
You can make your own, or you can visit The Turquoise Home and grab these free printables. Click HERE.
3. Thanksgiving Themed games.

What's better than sitting around the table recalling funny stories from past family gatherings? Adding in family games is a great way to create those memories. Laughing together and working together, and even a little healthy competition will ensure great memories for years to come!
They can be individual or group games depending on how many people are present. This will get everyone up and moving and maybe work off some of those calories from all the food you just ate.
This website is a great resource for holiday gathering games. Check them out here: Play. Party. Plan
Here is one of our favorites from The Idea Room:
"The BEST" Game
How to Play
Choose a Host. If your family or group is large, arrange everyone into small groups (3-4 people). If you are smaller, then everyone can play as their own team. If you are playing with lots of people the rule stands that everyone has to participate in at least one round.
The Rules
The Host is in charge of announcing the contest category for the group. (For example: "The Tallest", or "The Fastest")
Once the category has been announced, each group will select one person who they think can win the category. Be sure you don't announce the contest until after each group has chosen their player for that round.
There will then be a contest in that category. If a person has "THE BEST" within the category, his or her team gets a point.
Here are some category and contest examples. Use these, and add your own.
-The Tallest….THUMB
-The Fastest….CRAB WALKER
-The Highest….JUMPER
-The Longest….STARE IN A STARING CONTEST
-The Fastest….ALPHABET SONG SINGER
-The Quickest….TO BALANCE 5 DICE ON THE END OF A TOUGUE DEPRESSOR HELD IN YOUR MOUTH.
-The Farthest….MAKE A PAPER AIRPLANE AND SEE WHO'S FLIES THE FARTHEST.
-The Shortest….SHOE SIZE
-The Biggest….WHO CAN BLOW THE BIGGEST BUBBLE.
-The Quickest…WHO CAN UNWRAP A STARBURST WITH THEIR TONGUE THE QUICKEST.
-The Longest…WHO CAN BALANCE ON ONE FOOT THE LONGEST.
-The Most-est…WHO CAN EAT THE MOST MARSHMALLOWS IN ONE MINUTE
As you can see, the possibilities are endless. You can make them as complicated or basic as you would like. You can also have your kids or guests help put together a list while you cook. You will find your family/group, laughing out loud.
4. Appetizer Cook-off.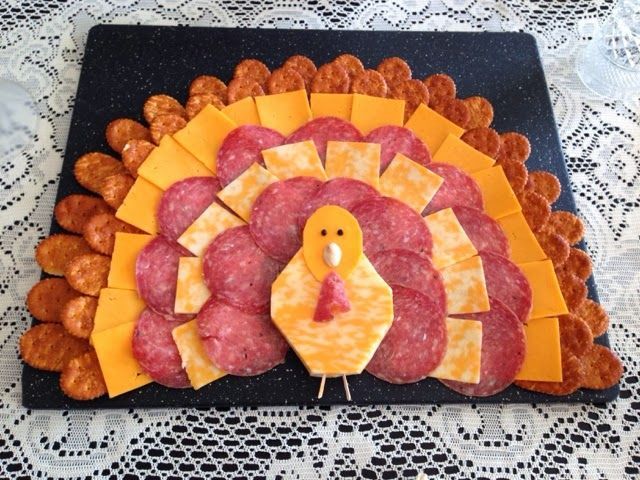 Here's another way to incorporate some fun competition into your gathering. The hardest part of Thanksgiving is arriving for your Thanksgiving meal and enduring the inevitable wait for all the food to be served.
This is a fun way to entertain yourselves while waiting for the main meal and also fend off the starving masses (who've most likely fasted earlier meals in anticipation of the big event).
This one requires a little planning ahead. You can theme the cook off: most creative, most exotic, most shaped like a turkey, etc. You could even require a certain ingredient in each appetizer and then see all the different creations people come up with.
Be creative! Whoever wins gets to go through the food line first, or better yet, gets first pick at the dessert table.
5. Thanksgiving Trivia.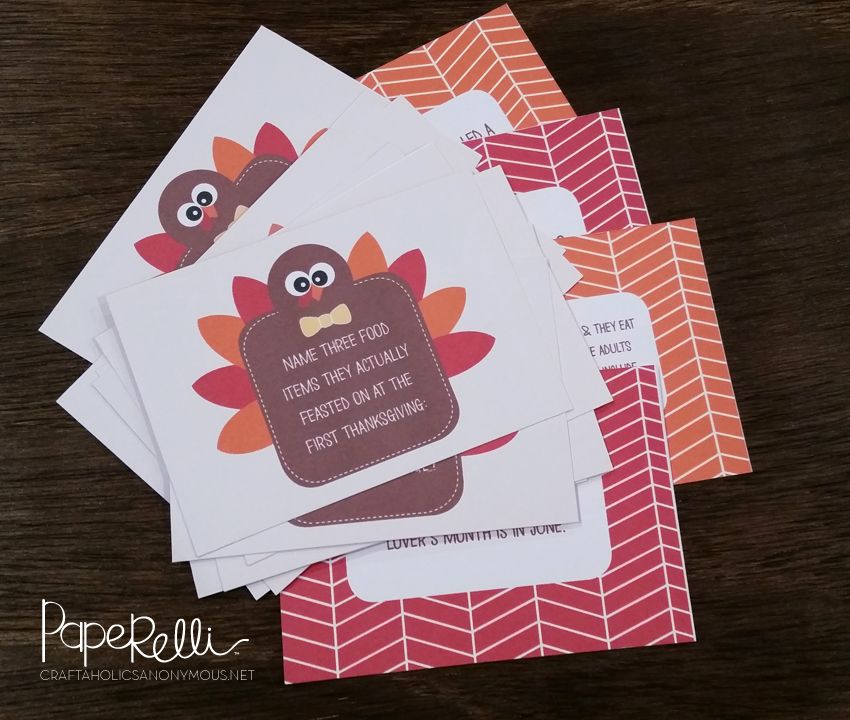 If you are looking for a little less excitement, but still lots of fun, try some Thanksgiving Trivia. You can print off a trivia question and place it at each table setting. It will keep the conversation flowing and you may get some pretty funny answers.
Or, you can gather together and play group style after the meal. Keep score and winners get bragging rights until next year!
You can make your own, or go over to Craftaholics Anonymous and print off these cute turkey trivia cards by Paperelli for FREE. Click HERE.
---
However you celebrate, we hope you have a great gathering with lots of good food, laughter, and memories. Happy Thanksgiving!